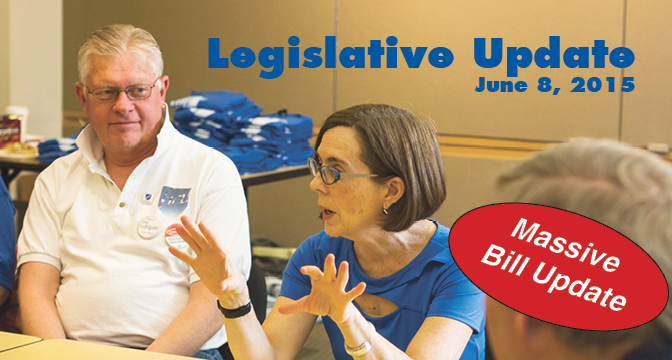 AFT-Oregon's Organizer Julia Trist breaks down the legislative session and worker actions. Contact Julia at juliat@aft-oregon.org
To read the last update click here.
This week Julia breaks down where all the AFT-Oregon's priority bills currently stand.
---
Adjunct HC – SB 702
(Currently in Ways and Means)
After the work group meeting, Dembrow recognized there are many inconsistencies throughout the various institutions regarding number of hours that qualifies for full time for PERS calculation. Since the PERS calculation is the mechanism for determining qualifying for HC, this complicates the implementation of the bill as is. Dembrow's plan moving forward is to require HECC to convene the stakeholders, identify these inconsistencies and craft a legislative solution for implementation. The SB702 workgroup will be combined with SB113, which asked HECC to define employee categories for the purposes of consistent reporting. SB113 requires a workgroup as well--in fact the same group of stakeholders-- so it made sense to combine the two which should result in a low fiscal than the two separate.
Adjunct UI - HB 3507
(Dead bill)
OSEA has a similar bill regarding UI for classifieds in SB 470. The bill ran up against the same concerns we experienced by Employment Dept. So Holvey wants to turn it into a workgroup/task force bill and include our UI for adjuncts issue as well. He is asking for permission from speaker's office.
Paid Sick Time - SB 454
(Currently in Ways and Means)
This bill would create a statewide standard that allows all Oregonians to sick time while working. Current version requires employers with 10 or more to provide paid sick time and employers with less than 10 employers must provide job protection for unpaid sick days. Portland standard of 6 or more is grandfathered in. The bill had an early hearing Feb 16, and was thought to move in early April. Senate gamesmanship over other employment policies caused the bill to stall.  It appears a final deal has emerged that ties this bills passage to the passage of another bill putting a two year moratorium on local policies such as scheduling predictability and flexible work. The coalition is willing to accept this deal and finally pass the bill.
Retirement Security - HB 2960
(Currently in Ways and Means)
Today's retirement savings system is risky, confusing and out-of-reach for many of us. One in six Oregonians ages 45–65 has less than $5,000 in retirement savings. It's not right that so many of us are aging without a safety net.
By creating a uniform, accessible statewide solution, HB 2960 will make it easier for all businesses to offer retirement investment plans to their employees. This bill has had strong support, but is awaiting passage out of Ways and Means.
It is held up awaiting passage of Paid Sick Days in Ways and Means.
Shared services bill - HB 2611
(Passed both chambers)
HB 2611 extends by four years period during which universities with institutional governing
boards must participate in mandated shared services. Spreading the costs of risk management and benefits throughout a larger pool brings down the overall costs to the system. This bill moved quickly through the process, with a minor tweak in the Senate. It now heads to the Governor's desk for signature.
Employer Health Coverage Accountability SB 845
(Currently in Ways and Means)
SB 845 establishes penalty to be imposed by Employment Department on large employers whose employees receive health care coverage through medical assistance program.
The goal is to penalize employers that reduce worker hours to avoid providing healthcare to their employees and the employer mandate penalties of the Affordable Care Act. The bill passed out of committee on a party line vote. It currently awaits passage in Ways and Means.
Styrofoam in schools - HB 2672
(Awaiting Senate floor vote)
HB 2672 requires school district to eliminate use of polystyrene foam plates, trays, food containers or food packaging in service of any meal unless school district recycles polystyrene foam. This bill has moved through the house with bipartisan support. It now awaits a Senate floor vote.
University Boards - SB 493
(Awaiting work session)
SB 493 removes ability of Governor to disband university governing board or force a university to take other action if university fails to make timely compliance with conditions established when State Board of Higher Education endorsed governing board. This bill passed the Senate with a bipartisan vote. It is expected to move out of House Higher Education Committee Friday.
Nurse staffing levels - SB 469
(Currently in Ways and Means)
SB 469 builds on Oregon's collaborative staffing committee structure, while empowering staffing committees, enhancing transparency, strengthening enforcement, and increasing accountability.
The bill adds a direct care staff representative, requires minutes and regular meetings, and consideration of evidence based guidelines and standards. AFT has supported ONA's efforts on this bill. It now awaits passage out of Ways and Means.
School Nurse Task Force – SB 698
(Currently in Ways and Means)
Despite a 2009 law requiring school nurse staffing ratios, Oregon has not moved closer to meeting the health care needs of children in order to succeed in school. This task force will put forth concrete recommendations to move towards adequate nurse staffing in schools.
AFT insisted that funding solutions that look at health funds, rather than scares education dollars. The bill moved from Senate Rules committee on a bipartisan vote. It is awaiting passage from ways and means.