AFT-Oregon's Organizer Julia Trist breaks down the legislative session and worker actions. Contact Julia at juliat@aft-oregon.org
---
The election is right around the corner. Ballots should be arriving in the mail to you anytime. In fact, it might be sitting there waiting for you right now!
Below you'll find out who AFT-Oregon is supporting this election. There are even some AFT-Oregon members running! Support your union cousins by giving them your vote. They're all wonderful candidates who put students and educators first.
Make sure you vote by May 19!
Your voice does matter! 
AFT-Oregon Local-endorsed candidates – Vote by May 19!
Siobhan Burke
Multnomah Education Service District Position 7
PFSP 111 member
 
Jaime Rodriguez
Hillsboro School Board Position 7
PCCFFAP 2277 member
 
Michael Sonnleitner
Portland Community College Board Zone 3
PCCFFAP 2277 member
 
Kevin Cronin
Eugene 47 School Board Position 5
 
Bobbie Regan
Portland Public School Board Zone 3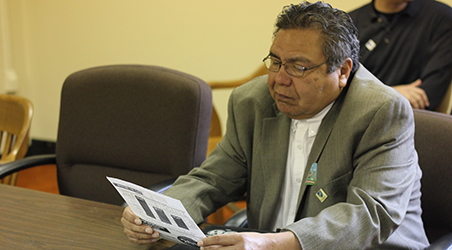 Jaime Rodriguez, PCCFFAP local 2277, reviews data before lobbying in Salem Feb. 2015. Photo by Justin Buchanan
Legislative Session Update:
Education Budget:
Revenue forecast will be released on May 15, which will guide the budget and revenue discussions through the end of the session.
 
We are asking for an additional $85 million for the university budget and $15 million for the community college budget to bring down tuition, increase quality education for students and make investments in financial aid.
 
The K-12 budget was passed, but we continue to advocate for more funding to ensure our communities have access to quality public education.
SB 702 – Adjunct Faculty Healthcare
Earlier in April, a hearing was held with powerful testimony from six AFT-Oregon members from around the state. A workgroup will be held attended by President David Rives this week to hammer out the fiscal impacts with the institutions.
HB 2611 – Shared Services
Continues to gain support and will have another hearing within the next week or two.
SB 418 – Dual Credit
We are currently working on an amendment that would address issues with college faculty oversight of these courses.
SB 454 – Paid Sick Days
Moving onto the Senate floor next week for a vote.