Monday, January 10, 2022
EUGENE, OR — The Graduate Teaching Fellows Federation, AFT Local 3544, has filed an Unfair Labor Practice claim against the University of Oregon for unilaterally imposing new COVID-19-related workplace policies without negotiation. The UO announced through email a new recording requirement for graduate employees (GEs) who teach in-person classes, directly affecting 950 GEs who have teaching appointments. A new policy that requires employees to be recorded while working is a clear change in working conditions, and changes to working conditions are a mandatory topic of bargaining, meaning the employer cannot unilaterally institute such a policy.
UO administration failed to provide prior written notification and refused to negotiate a change to a mandatory topic of bargaining as required by Public Employee Collective Bargaining Act section 243.627(1)(e): "Refuse to bargaining collectively in good faith with the exclusive representative.
"As the legally-recognized bargaining body of graduate employees at the University of Oregon, we are disappointed in the lack of communication on this policy from the administration," GTFF President Mel Keller said. "The fact that the University did not consult with us through the bargaining process before changing our working conditions shows that they do not take seriously the rights of workers under state labor law." 
UO Continues to Unilaterally Declare Changes to Working Conditions
In addition to the recording requirement raising legal, inclusion, and privacy concerns that should have been negotiated in good faith, UO administration also announced that faculty and GEs should track whether each class has 20% of its students absent for COVID-related reasons, at which point remote work requests can be made pending approval of deans and department heads. In addition to allowing unsafe levels of COVID exposure in classrooms, this policy explicitly excludes some classes and workspaces like labs, whose workers also deserve increased safety and remote work if needed.
In contrast to this policy, GTFF supports its members' contractually guaranteed rights to refuse to work in unsafe spaces and to request remote work for their health and safety. While the GTFF stands ready to negotiate changes as part of expedited impact bargaining, UO administration continues its practice of unilaterally declaring changes to working conditions through email announcements.
COVID-19 Cases Skyrocketing at UO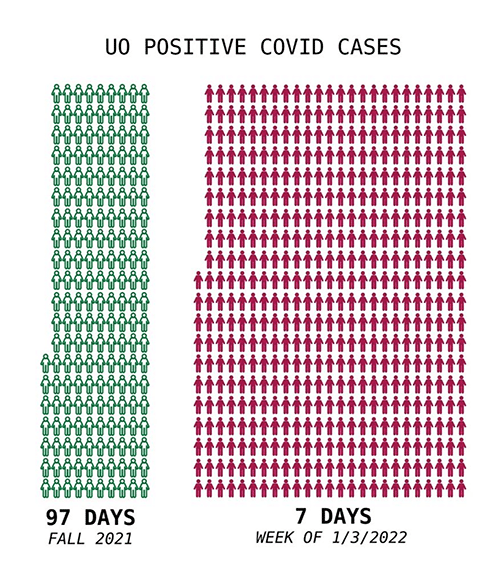 These policy changes come at a time when COVID-19 cases have skyrocketed with over 630 reported cases among the university community members in just the first four days of Winter term. UO administration continues to insist on holding in-person classes and to restrict remote work options despite the dire situation unfolding and UO's direct contribution to community spread. The current situation represents the latest example of negligence by university administration for failing to ensure health and safety on campus throughout the course of the pandemic. 
GTFF represents over 1,400 graduate employees engaging in teaching and research work at the University of Oregon. In the 2018-2019 academic year, graduate employees taught 17 percent of lectures, 83 percent of labs and 93 percent of discussion sections. While the COVID-19 pandemic has fundamentally disrupted graduate student lives and research work, graduate employees at UO have continued to fulfill essential teaching, grading and administrative responsibilities.
Media Coverage
For more on this story, please see the news articles on OPB and KPTV.