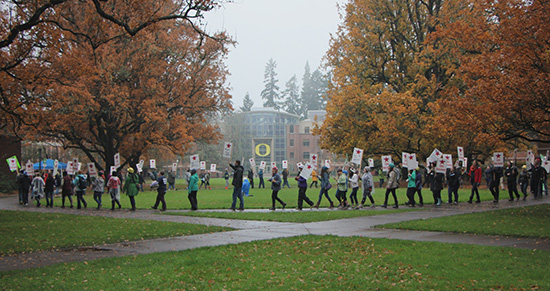 GTFs and their supporters march in front of the University of Oregon Lillis complex singing solidarity songs and chanting Dec. 4, 2014. The strikers were also lead by a drum line. Photo by Justin Buchanan
It's Thursday, December 5th in Eugene a phone alarm buzzes on a University of Oregon's graduate teaching fellow's night stand.
It's 6 a.m. again, time for him or her to slip on muddy pants, thick wool socks, a winter jacket, and boots, all of which are damp. Once dressed, the half mile trek to Espresso Roma next to the University of Oregon campus begins.
If someone walked into Espresso Roma that Thursday, he or she would notice the coffee shop's clientele is a bit split at the moment. Half are there to grab their morning bagel, a cup of coffee and maybe a brief reflective moment to themselves at a table before their day begins. The other half are soggy, whispering loudly, and preparing for what seems like a battle.
This quietly rowdy half of the café are graduate teaching fellows from the University of Oregon. They've gathered at Espresso Roma once again because they're no longer working. They're on strike for fair pay and paid medical leave, two fair and humane  requests.
"We did everything in our power to avoid going to strike," GTFF Local 3544 President Joe Henry said. "We truly hoped that the administration would work with us to avoid a strike. The admin clearly showed they prioritized money and power over the quality of education."
GTF's would gather in their strike headquarters, Espresso Roma, daily to organize another day on the picket line.
The picketing would begin around 6:30 a.m. every morning. Their first daily targets would be the construction sites, garbage pick-up routes, and mail drop off points.
After the early morning disruptions the real picketing began.
Picketers gathered in front of high foot traffic areas and in front of the Johnson Hall Administration Building.
Picket lines were not quiet spectacles. While marching they chanted songs and union rallying cries.
"G - T! F-F! We are! U-O!" and many other chants could be heard across the campus. Not only did the lines have chants, many also had their own drum lines. Drummers pounded their hodgepodge bucket and garbage barrel drum sets with wooden cooking utensils and mallets.
While GTFs were busy on the lines, many students were rallying to support them. Members of University of Oregon's Student Labor Action Project (UOSLAP) hosted study sit ins inside Johnson Hall. SLAP members and supporters simply gathered inside the lobby of Johnson Hall to study peacefully and quietly. However, they brought with them signs supporting GTFs and calling out the university administration.

University of Oregon Student Labor Action Project members participate in a sit in at Johnson Hall to support GTF's strike Dec. 3, 2014. Photo by Justin Buchanan
Actions like these ran throughout the day. Then about 4:30 p.m. the picket lines would form a super line and march around campus chanting at the top of their lungs to the rhythmic pounding of the drums. After the march, the crowd would gather in front of Johnson Hall for a rally to recap the action at the bargaining table.
After rallying the GTFs would disperse and head home to do their own homework and be with their families momentarily, all before starting it again.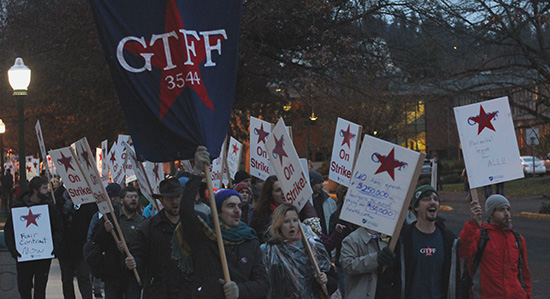 GTFs march towards University of Oregon's Johnson Hall for a post day rally Dec. 3, 2014. GTFs sang solidarity songs and chanted as they marched. Photo by Justin Buchanan
 
Marching and chanting were just one element of this action, while the membership at large was outside demonstrating. GTFF's bargaining team was at the table fighting for what they needed and for what was right.
Day after day the bargaining team sat in a quiet conference room reviewing contract proposals and proposing contracts to the administration.
"What we did at the bargaining table wouldn't have been possible without members' tireless efforts on the picket lines," GTFF Local 3544 Bargaining Team member and Vice President of External Relations Jon LaRochelle said. "They demonstrated what is possible when we stand together and fight for rights and recognition as workers."
A big contract breakthrough happened Dec. 9, seven days into the strike. University of Oregon administration began to feel the strain of the loss of the GTFs. Professors had to make drastic changes to their courses right before finals because GTFs were no longer available, and undergrad students began to feel lost without their teachers.
University of Oregon was failing their students.
Administration finally began working with the GTFF bargaining team. Proposals began moving back and forth between rooms. Finally, after 23 hours of negotiations a collective bargaining agreement was reached.
GTF's finally had won fair pay and a medical leave program. It took 10 days, but they had won.
"It was exhausting.  It was hard to sit in a mediation room while our friends, family, and coworkers marched and sang in the rain and the cold," GTFF Local 3544 Bargaining Team member Steve McAllister said. "It was their energy and their support that got us through. They never gave up so we couldn't either. That's why we won."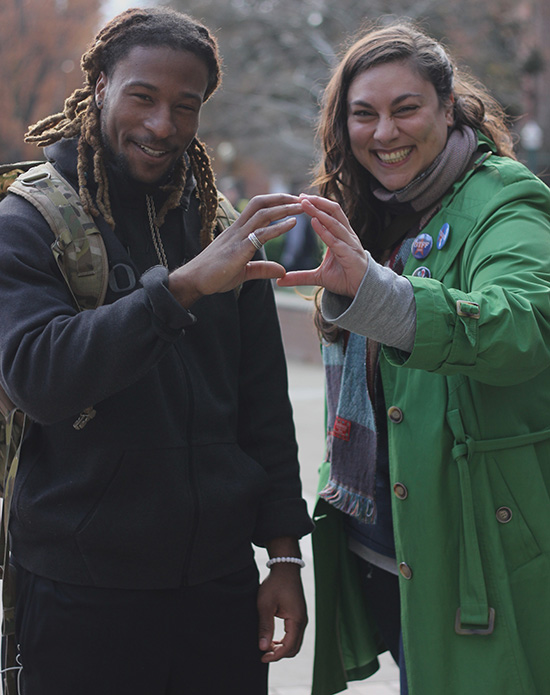 GTF Zenia Salame creates the University of Oregon O with her student University of Oregon Running Back Ayele Forde Dec. 3, 2014. "I love my GTF [Zenia Salame] because she has helped me with my craft, and improve in the things I've wanted to improve on, like my acting and my speaking," Forde said. Photo by Justin Buchanan