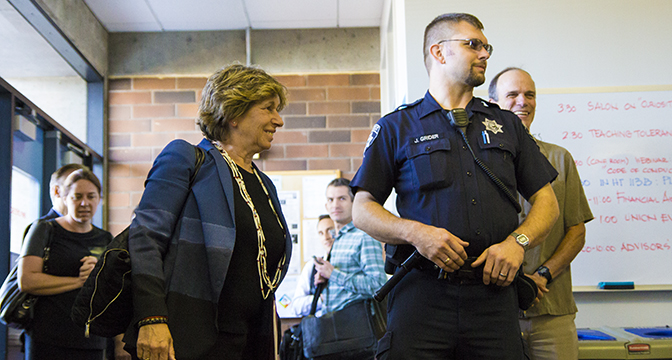 AFT President Randi Weingarten (right center) is greeted by PCCFCE, Local 3922, campus security officer and Executive Vice President Jeff Grider and others during her visit at Portland Community College Oct. 15. Photo by Justin Buchanan
Jeff Grider, Executive Vice President and campus security officer of Portland Community College Federation of Classified Employees, Local 3922, helped AFT issue a groundbreaking report on racial equity. From AFT National:
"Leaders and members of the AFT have spent the past year having blunt, tough, uncomfortable, but courageous conversations about how to address the lingering effects of racism and inequity in our nation—especially related to black males. As a result of those conversations, the AFT on Oct. 9 became the first public sector union in modern history to issue a substantive, action-oriented report on achieving racial equity in America."
...
"Jeff Grider, executive vice president of the Portland Community College Federation of Classified Employees, a campus security officer and a white man, embraced that struggle. Just as the sexual assault prevention movement focuses not just on women taking action to stay safe but on men taking action to stop assaulting them in the first place, the racial equity movement must both help victims and stop perpetrators, he said. 'My challenge as a white person is to teach other white people how not to be racist,' said Grider."
Posted: Oct. 21, 2015 at 3:30 p.m.