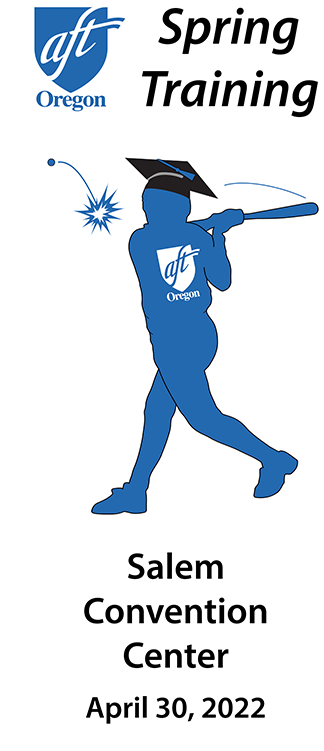 Each year, AFT-Oregon offers union training to its local members at "Winter School." Due to the pandemic, we have moved this year's training to April 30 at the Salem Convention Center, and we're calling it "Spring Training." Some of the twelve workshops offered this year include:
PERS and Retirement
Public Student Loan Forgiveness 
Organizing
Building Political Power
Union Basics for New Leadership
Grievances
Labor and Community Partnership with Portland Jobs with Justice
For complete details, please view our brochure.
This is our first in-person event since the pandemic, and we are so looking forward to seeing everyone again! Registration for the event is $60 per participant, which includes a continental breakfast, full lunch, raffles for gift cards, and workshop materials. Registration ended Friday, April 15th. 
Spring Training will include a welcome message from Salem City Councilor Jackie Leung, an AFT-Oregon endorsed candidate for Oregon House District 19. The Land Acknowledgement will be presented by State Senator Deb Patterson, whom AFT-Oregon has also endorsed for her reelection in Senate District 10. 
A representative from AFT will be available to discuss the range of Member Benefits offered by AFT. There will also be representatives from community partners such as Kaiser Permanente and Bright Now! Dental. 
AFT-Oregon COVID-19 Policy - UPDATED April 27, 2022
Due to rising COVID-19 cases in Oregon, we have decided to change our Spring Training policies.
All attendees will have their temperature taken during registration. People with high temperatures will not be admitted.
Masks are now required throughout the event, except when actively eating or drinking. 
It is highly recommended that attendees be both vaccinated and boosted.
AFT-Oregon is committed to making our guests at in-person events as safe as possible. We follow the current CDC guidelines for each county. 
Here is our complete COVID-19 policy, which is updated regularly.