There were a lot of courses taught at AFT-Oregon's 2015 Winter School. We're already seeing the results of the knowledge acquired in effective bargaining and organizing efforts by AFT-Oregon locals and their leaders.
If you recall from our Winter School Recap the Issues Organizing class put their skills to work right away. The students of the class organized an action to collect tips for the wait staff at the Hallmark Resort.
Members of the class gathered tips and thank you notes over the course a few hours Jan. 25 and presented their collection to the wait staff.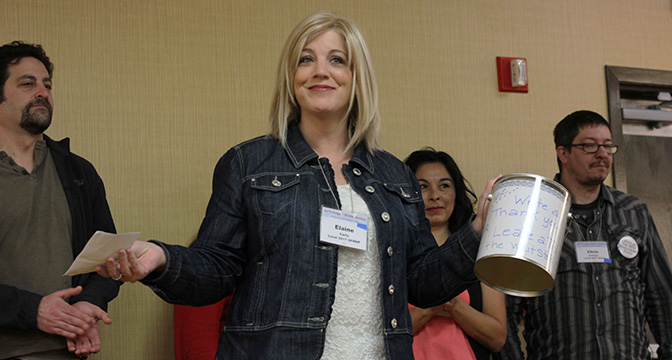 Elaine Carty of Local 5017 OFNHP presents the tip jar to Winter School attendees and the wait staff. Photo by Justin Buchanan
"This is a labor to labor action, you all deserve it because you did a wonderful job," Elaine Carty, Local 5017 OFNHP said.
Ultimately the class collected $470 dollars for the wait staff.
Today AFT-Oregon received a thank you message from the Hallmark wait staff.
"Thank you again so much for the project you initiated in collecting tips for my staff," Hallmark Resort Director of Catering Beki Hueth said. "They were truly honored and a little shaken at the gesture."
The Hallmark staff gave $120 of the tips to the chef and cooks. They also, decided to donate $200 to an educational charity in the Newport area.
"Thank you, thank you, thank you for your generosity," Hueth said.