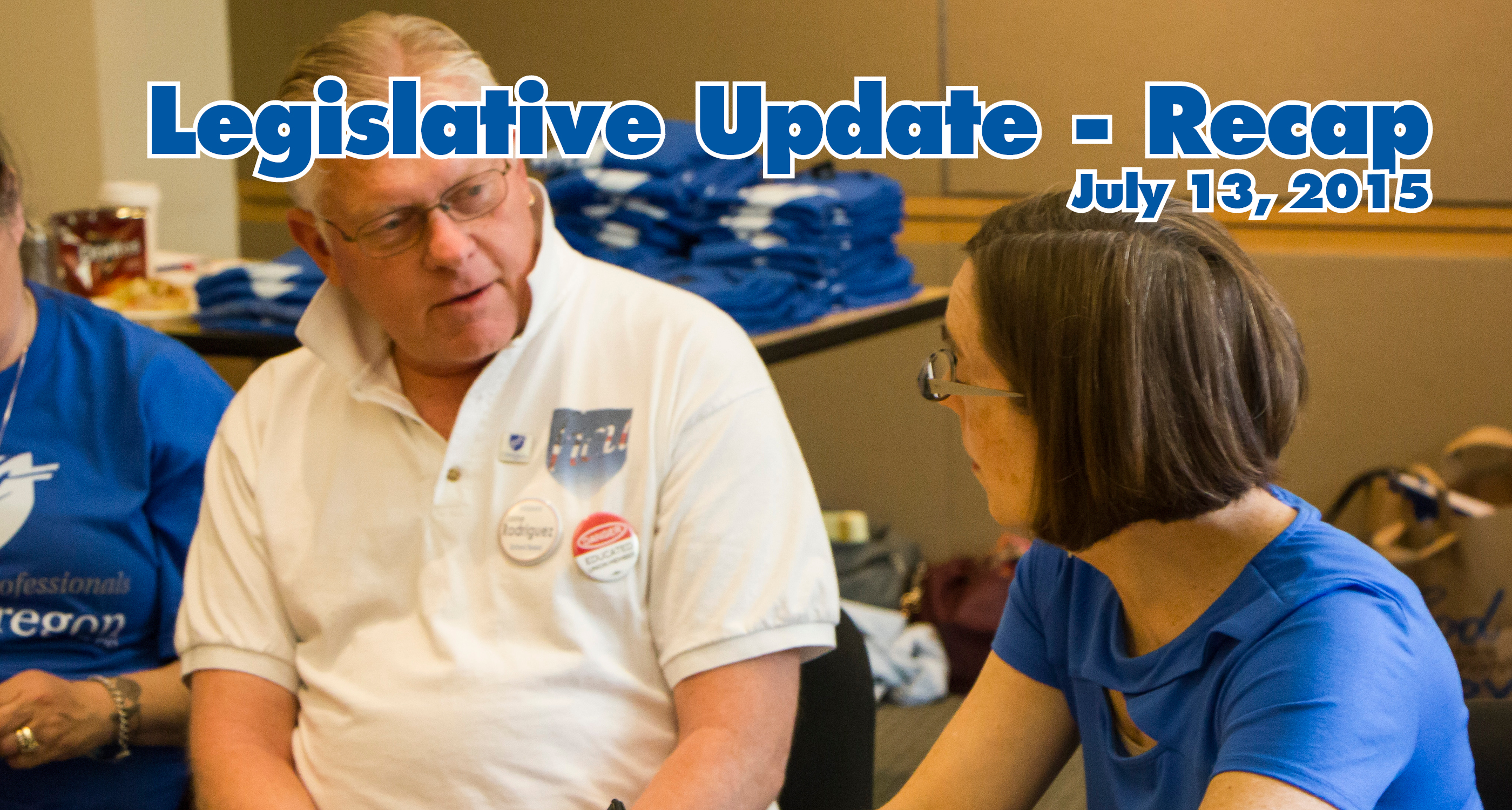 Oregon's 2015 Legislative Session has officially come to a close. Thanks to the relentless work of a strong and unique coalition, and the support of a legislature that held everyday Oregonians' well-being as a top priority, this session will be remembered for its Legislature that fought and won for working people.
Budget
K-­‐12 funding. Early in the Session, the Oregon Legislature passed a $7.255 billion K-12 budget on a complete party line votes (House 35-25/Senate 18-12).  The bill represents a 9 percent increase from the current 13-15 budget and is enough to pay for all day kindergarten according to legislative fiscal analysis. The K-12 budget, historically debated in the final days of a legislative session, made history by being the second earliest budget passed by the legislature in the last 20 years. Budget leaders in both the Senate and the House agreed to add more money if the May revenue forecast was positive—and it was! An additional $105 million has been added to the biennial budget. Plus, the end of session budget bill allocated an additional $12 million to the State School Fund. The total for Common School Fund is $7.4 billion.
Community College funding. The Ways and Means co-chairs budget framework increased general support for Community Colleges by $70m from $465m in 2013-15 to $535m for 2015-17. This is substantially higher than Governor Kitzhaber's recommended budget. However, Community Colleges, students, faculty and staff are advocating for an additional $15 million. According to OCCA, a $550m budget will result in "no cuts" for many community colleges. For others, it would be a minimal cuts budget. The final budget level for the Community College Support Fund is $550 million, a 21 percent increase over current service level.
University Funding. The Ways and Means co-chairs budget framework increased general support for the independent public universities from $521.5 million in 2013‐15 to $635 million for 2015-17. This includes funding required to pay for the cost of shared services. Universities, students, faculty and staff are advocating for an additional $85 million bringing down tuition, increasing quality education for students, making sure the universities invest in financial aid, and add more money to our regional campuses. Meeting this number will be difficult with existing resources. Advocates have proposed $35 million increase over the co-chairs recommended budget now, and an additional $50 million if the revenue forecast goes up before February session. However, lawmakers decided to allocate $700 million total for Public Universities Support Fund, not $755m which advocates were asking.
Budget Note on Tuitions. The additional $30 million post revenue forecast allocation for the biennium is to be used to fund campus investments in targeted tuition remissions for undergraduate Oregonians, and programs to improve student graduation. These would be programs detailed previously by the universities to the HECC for how they would use additional investments addressing access, affordability, and student success. The seven universities will commit to continuing these investments in both years of the biennium. The universities will report to HECC, and legislative committees, how they have invested the funds. All additional funds will flow through the Student Success and Completion Model (SSCM).
AFT-Oregon Priorities 
Campus sexual assault bill. SB 759 requires all Oregon Community colleges and universities (public and private) to adopt protocol to serve survivors of sexual assault by providing information on community and campus support services. In addition, campuses are required to provide written information on campus disciplinary processes, confidentiality and legal options.
Part-Time Faculty Health Coverage. SB702 would have provided health coverage for Adjuncts working at multiple public colleges or universities. While they may work only part-­time at each institution, they are working full time when the work hours are combined. The bill mirrors HB2557 (2009) regarding PERS. Senator Dembrow, the bill's chief sponsor, convened a stakeholder group including universities, community colleges, HECC, OEA and AFT. After that meeting, it was clear there are inconsistencies throughout the various institutions regarding number of hours that qualifies for full time. More time and research is needed. Therefore, a task force will be formed to require HECC to  convene the stakeholders, identify these inconsistencies and craft a legislative solution for implementation. This was accomplished in SB113, which asked HECC to define employee categories for the purposes of consistent reporting. SB113 requires a workgroup as well-­the same group of stakeholders-­so combining the two resulted in a low fiscal than the two separate. As the "combined" bill moved through the Ways and Means process, there was criticism over funding "another work group." Republicans voted no in Ways and Means.
Graduate Employee Representation on Institutional Boards. HB 3237 would have created a new seat on the governing boards of public universities, require boards to disseminate to board members materials submitted to the board, and require the governing board to engage in collective bargaining. GTFF and CGE held a lobby day on Feb. 11. When the bill was languishing in committee, the grads came back down to "make their case" for a public hearing so that their issues could be heard. AFT organized an impactful hearing on April 1. While the committee members were sympathetic to desire to have a voice on the board, they felt this bill was too soon.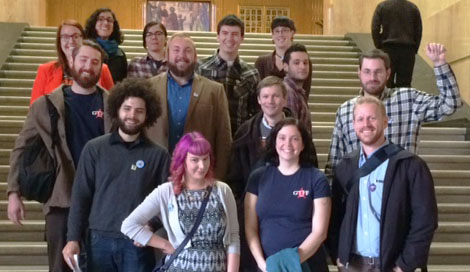 Members from CGE and GTFF lobby in support of HB3237.
Fair Shot
Under the Fair Shot For All campaign, communities of color, labor unions, parent advocacy groups, and many more came together for a shared agenda to help families get ahead, not just get by. And the Legislature passed a handful of bills that will do just that:
Paid Sick Leave. Most workers in Oregon will now have access to paid sick leave, because no one should have to choose between taking care of their health and keeping their job. Making sure Oregonians can accrue a reasonable number of paid sick days each year will give us all time to recover from illness and to take care of sick kids and other family members when we need to. Hundreds of thousands of low-wage workers will now have this basic workplace protection.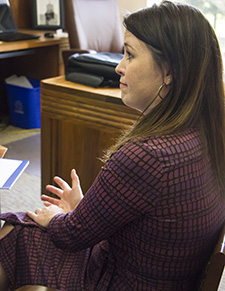 Retirement Security. With the passage of the Oregon Retirement Security Bill, every worker in Oregon will now be able to plan for a secure retirement after a lifetime of work. Working Oregonians will now have access to a simple, easy and effective way to save, because everyone should be able to provide security for themselves and their families, regardless of where they work.
Ban the Box. Qualified job applicants with prior convictions and arrests — who are regularly shut out of jobs, regardless of how minor or long ago the crime — will now be given a second chance at a fair shot, thanks to the passage of House Bill 3025. Banning the box, or removing the "check box" questions about criminal history from job applications, will help Oregonians get back on their feet once they have served their time.
End Profiling. Profiling by law enforcement happens here in Oregon, whether it's based on race, ethnicity, religion, national origin, language, housing status, sexual orientation or gender identity, and there is no statewide system in place for reporting instances. Already more likely to face arrest, people in typically-suspect communities are already struggling to make ends meet and risk harsher penalties and extra fees when they can't afford to pay the fines that result from unfair profiling. With the passage of the End Profiling bill, law enforcement will be prohibited from this practice, and a system to report unfair profiling will be established, because people shouldn't live in fear and cast as suspect simply because of what they look like, where they come from or what religion they practice.
We're elated to see policies in place that would improve the lives of Oregonians, and we're proud to be a part of the movement for giving working families a fair shot. But in response to these important victories, corporate CEOs have launched attacks on labor unions that make it harder for our coalition to continue this work: instead of engaging on the issues, special interests are attempting to dismantle the groups fighting for every worker in the state. Four ballot measures have been filed that are designed to dismantle labor unions and labor protections for working people. The goal of these measures (and other union attacks like them) is to simply stop the progress that workers are starting to gain by taking away the advocates for change.
We aren't letting these threats stop us, though – especially because there is so much more important work ahead. The same coalition that came together for earned sick days, retirement security, banning the box and ending profiling is continuing to work toward raising Oregon's minimum wage because no one should work full time and not make enough money to support their family.
This session proved once again that by working together we can  improve the lives of Oregon families, and ensure we all have a chance to get ahead and not just get by.
One more thing: As we gear up for the next battles, please take the time today to find your legislator online and say thank you for the good votes to make all of our lives better. They deserve our appreciation and thanks — there's lots more to do, but we should be proud of the progress we've already made.

Oregon Governer Kate Brown holds up an AFT-Oregon shirt during her visit to AFT-Oregon's Lobby Day Apr. 20, 2015. Photo by Justin Buchanan