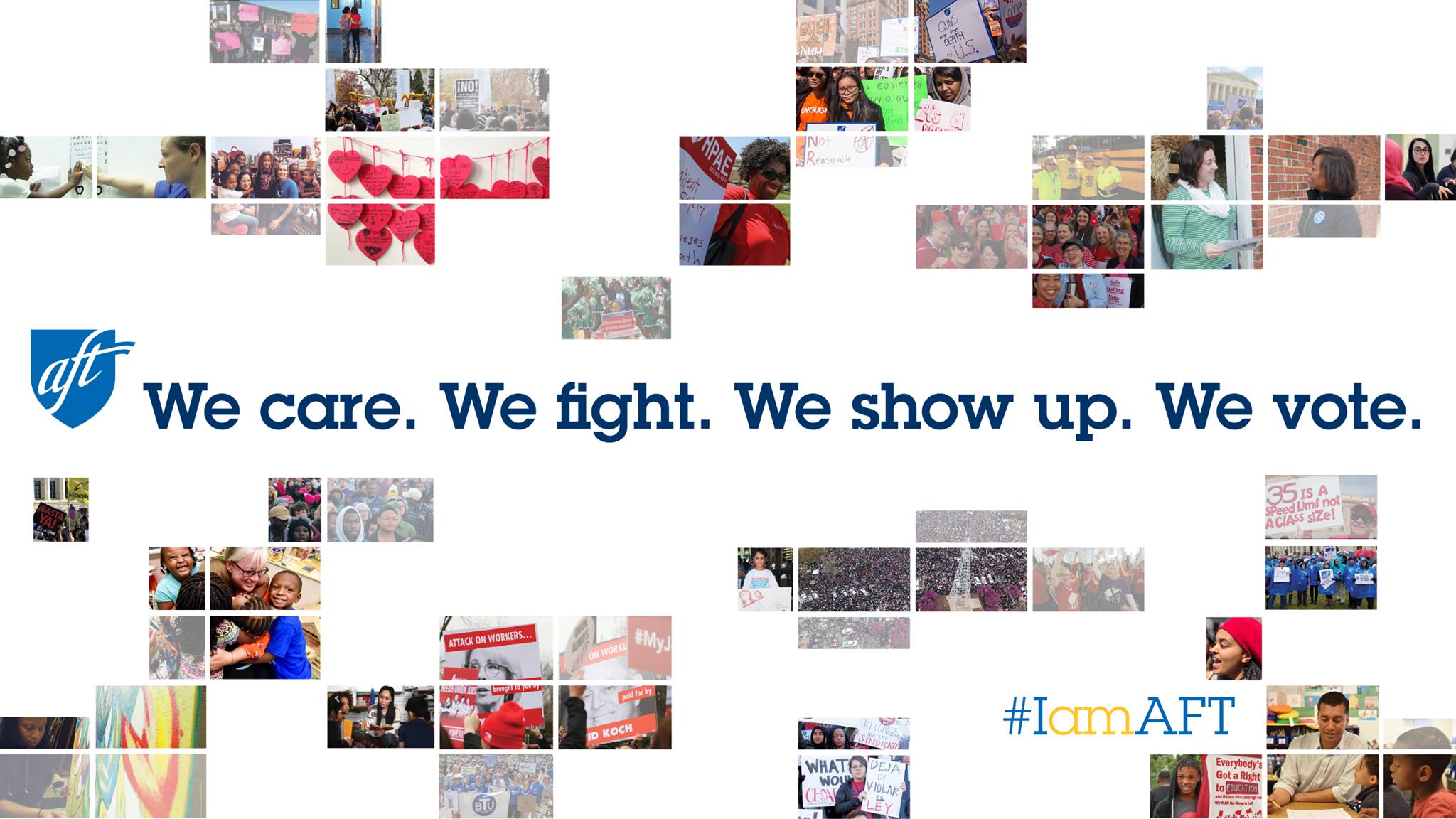 Each election cycle, members of the AFT-Oregon Political and Legislative Affairs Committee (PLAC) analyze voting records on key AFT-Oregon issues, review completed candidate questionnaires, conduct personal interviews, coordinate with other public sector unions, and perform other rigorous analyses of candidates and their campaigns.
Political party is never considered. Candidates are evaluated on their voting records and positions on issues that our members have determined to be a priority. Issues like: the expansion of union rights for faculty, ensuring safe workplaces for classified employees, access to health insurance for part-time faculty, higher education affordability, PERS, immigrant rights, making corporations pay their fair share in taxes, adequately funding education, access to affordable housing, and paid family medical leave. Those issues inform the endorsement decisions made by the PLAC, who votes on who to endorse, and then forwarded to a vote by the full AFT-Oregon Executive Council. 
"We had to make a lot of difficult decisions, but we are thrilled with the slate of candidates running for office in 2018," says Jaime Rodriguez, chair of the committee and Vice President-Political Action for AFT-Oregon. "We are also proud to stand with our AFT-Oregon Legislative Champions who have consistently stood up for our members' values in Salem."
---
Kate Brown for Governor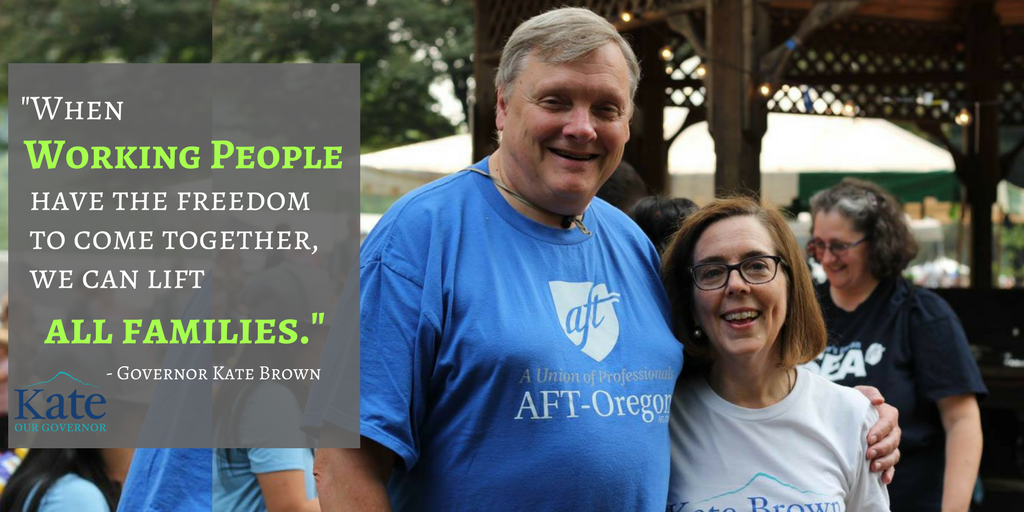 Governor Kate Brown has been a longtime champion for the members of AFT-Oregon in her time in the Oregon Legislature, as Secretary of State, and now as our Governor since 2015. Frequently endorsed by AFT-Oregon due to her support for our issues, this election cycle is no different. Governor Brown signed our priority legislation into law in 2017 - House Bill 3170 - which expansions union rights for public university research faculty and she frequently mentions the law in speeches.
In addition, Governor Brown worked with lawmakers to make the largest investment in education in Oregon's history, including funding all day kindergarten. She also increased the minimum wage, implemented paid sick days, and signed a first-in-the-nation predictive scheduling law for workers. We stand with Kate Brown for Governor because we know she will continue to work to create an economy that works for all Oregonians, increase access to healthcare, and improve graduation rates. 
About her opponent:
During the 2017 legislative session, Knute Buehler voted in favor of AFT-Oregon issues a paltry
25% of the time
- giving him one of the lowest scores in the Oregon House alongside some of Oregon's most-extreme anti-union lawmakers. In Knute's time as a legislator he has voted down nearly every piece of legislation that would help workers - choosing instead to stand behind corporations and the ultra-wealthy. He voted against minimum wage and paid sick days. He voted against AFT-Oregon priority legislation that would give public university research faculty a voice on the job. He voted against protecting health care as a right for all Oregonians and he voted against expanding access to affordable health coverage.
Learn more about Knute's bad record.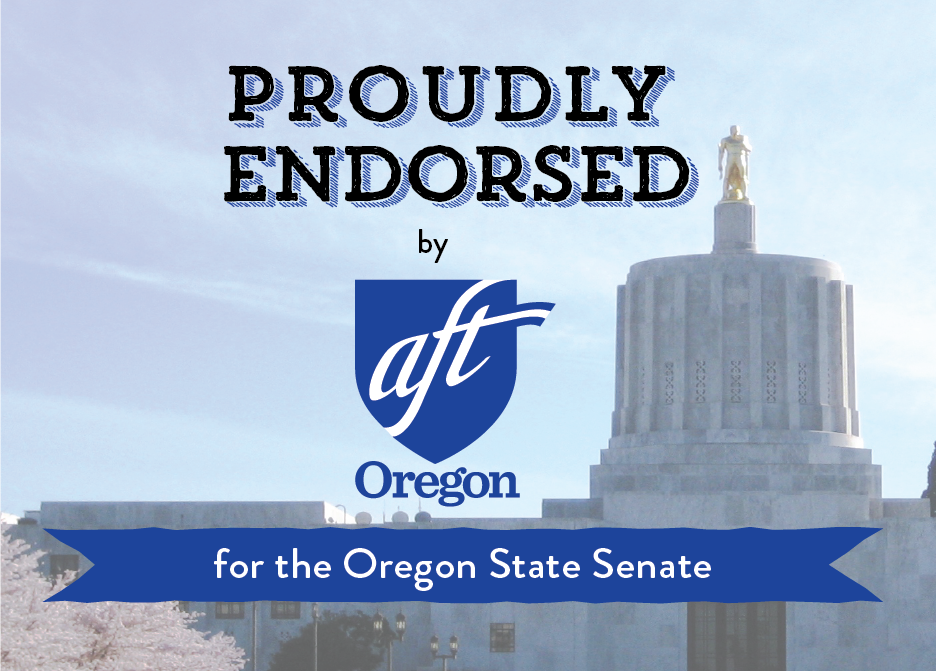 Shannon Souza - SD 1 - South Coast
Jeff Golden – SD 3 – Ashland, Medford, S Oregon 
Floyd Prozanski - SD 4 – South Lane, North Douglas*
Lee Beyer – SD 6 – Springfield*
James Manning, Jr. - SD 7 – Eugene, Junction City*
Sara Gelser – SD 8 – Corvallis, Albany* 
Deb Patterson - SD 10 - South Salem
Peter Courtney  - SD 11 - Salem*
Sarah Grider – SD 13 –Clackamas, Washington and Yamhill County (AFT Member - OSEA)
Chuck Riley – SD 15 – Hillsboro, Cornelius, Forest Grove* 
Elizabeth Steiner Hayward – SD 17 – NW Portland, Beaverton*
Rob Wagner – SD 18 - Lake Oswego, Tualatin, SW Portland* (AFT Alum)
Charles Gallia - SD 20 - Clackamas County
Shemia Fagan – SD 24 – E Portland, N Clackamas County
Chrissy Reitz - SD 26 - Hood River
---
Oregon House of Representatives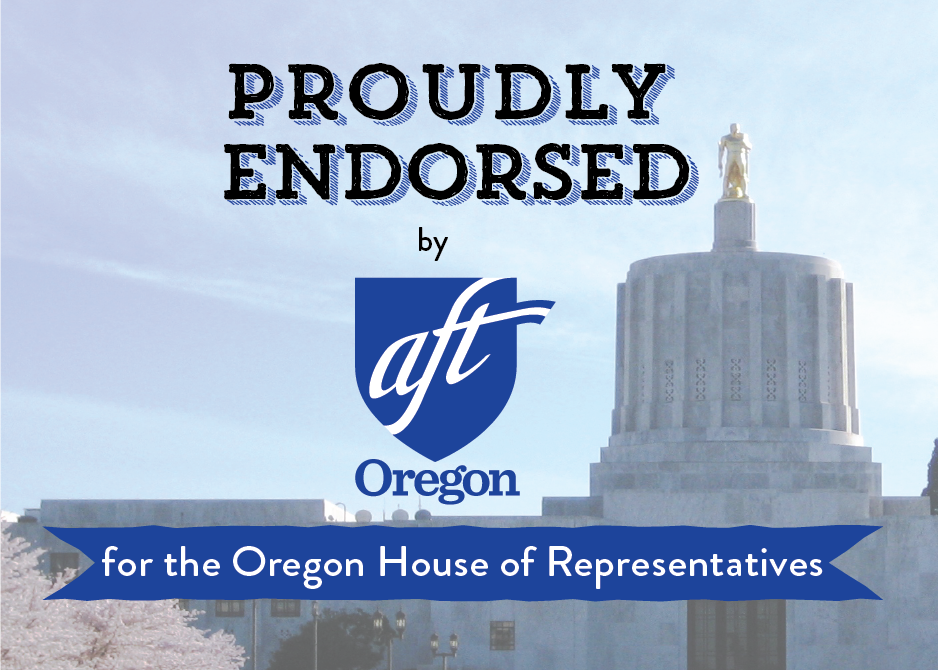 Pam Marsh – HD 5 - Ashland*
Michelle Blum Atkinson - HD 6 - Medford
Christy Inskip - HD 7 - Lane & Douglas County
Paul Holvey – HD 8 - Eugene*
Caddy McKeown - HD 9 - Coos Bay
David Gomberg – HD 10 – Central Coast*
Marty Wilde – HD 11 – Eugene 
John Lively - HD 12 - Springfield
Nancy Nathanson – HD 13 - Eugene*
Julie Fahey  - HD 14 - W Eugene, Junction City*
Jerred Taylor - HD 15 - Albany
Dan Rayfield – HD 16 – Corvallis* 
Paul Evans – HD 20 - Monmouth* (AFT Alum)
Brian Clem – HD 21 - Salem*
Danny Jaffer - HD 23 - Benton, Polk, Yamhill County
Teresa Alonso Leon – HD 22 - Woodburn*
Courtney Neron - HD 26 - Sherwood
Sheri Malstrom – HD 27 - Beaverton* (AFT Member - ONA)
Jeff Barker – HD 28 - Aloha*
Susan McLain – HD 29 – W Hillsboro, Cornelius, Forest Grove*
Janeen Sollman – HD 30 - Hillsboro*
Brad Witt - HD 31 - Clatskanine 
Tiffiny Mitchell – HD 32 – N Oregon Coast
Mitch Greenlick – HD 33 – NW Portland* (AFT Alum)
Ken Helm – HD 34 - Beaverton*
Margaret Doherty – HD 35 - Tigard*
Jennifer Williamson – HD 36 – NW/SW Portland*
Rachel Prusak - HD 37 - West Linn (AFT Member - ONA)
Andrea Salinas – HD 39 - Lake Oswego*
Mark Meek – HD 40 – Clackamas County*
Karin Power – HD 41 – Milwaukie, SE Portland*
Rob Nosse – HD 42 – SE Portland* (AFT Member - ONA)
Tawna Sanchez  - HD 43 – N/NE Portland*
Tina Kotek – HD 44 – N/NE Portland*
Barbara Smith Warner – HD 45 - NE Portland*
Alissa Keny-Guyer – HD 46 – SE Portland*
Diego Hernandez  - HD 47 – NE Portland/Parkrose*
Jeff Reardon – HD 48 – Happy Valley*
Chris Gorsek – HD 49 - Troutdale*
Carla Piluso – HD 50 - Gresham*
Janelle Bynum – HD 51 – Clackamas County*
Anna Williams – HD 52 – Hood River, Cascade Locks
Karen Rippberger - HD 55 - Prineville
Greg Smith - HD 57 - Heppner
U.S. Congress
Suzanne Bonamici – 1st Congressional District
Earl Blumenauer – 3rd Congressional District
Peter DeFazio – 4th Congressional District
* and Bold - Denotes a 100% rating by AFT-Oregon due to their strong support of our union's priority issues in recent legislative sessions. 
 
Italics - Denotes current or former AFT member or staff.