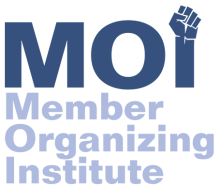 AFT-Oregon and AFT are proud to host the Member Organizer Institute (MOI), which helps strengthen our locals and build membership. All AFT-Oregon locals are expected to participate in the MOI at least once per year. 
To participate, the local must identify a primary point-of-contact for the duration of the quarter. This contact is responsible for training the Member Organizer on local issues and procedures. The contact may also assist the organizer with identifying likely members. 
To recruit potential Member Organizers, local leaders can send out the following email to their members.
_____________________________
Subject: Want to be Compensated and Trained to Help make our Union Stronger? 
FIRST NAME,
I'm pleased to announce that our local will be participating in AFT-Oregon's Member Organizer Institute (MOI), a training and development opportunity for emerging leaders who are ready to take their union organizing skills to the next level and strengthen our local for the future.
MOI is a three-month intensive, paid training program that teaches organizing skills through real-world experience in concert with staff and local leaders. This program capitalizes on one of our most valuable resources–our members–to help build union power and activism.
The goal of the institute is to train union members to build power, grow our membership, engage current members in our union and ensure the long-term sustainability of our local by having members trained to continue their organizing work and help develop other members after participating in the institute. 
We are looking for members who are interested in using this development opportunity as a way to jump-start or deepen a long-term involvement with our local. Does that sound like you? Read on...
Program highlights include:
Attend a two-day organizing training with other member organizing institute/academy participants

Get real-world field experience under guidance from professional organizing staff 

Regular team meetings with other MOI participants to compare and learn

Establish and build organizing practices for our local
Admittance into the institute is competitive and will be based on an application and interview. If you are interested, please see the MOI website. Applications for Fall 2023 are due September 13, 2023, so I urge you to get your application in as soon as possible. Thanks for considering this valuable opportunity. 
In Solidarity,
Name of local president
Name of local