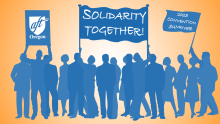 Agenda
Nominations and Election of AFT-Oregon Executive Council
Elections
Amendments and Resolutions
Convention Forms
The following forms can be used by online Delegates. In-person Delegates can use these forms or the paper forms provided at the Convention.
Remote Attendees Information
Disposition of Resolutions
Resort Information
The convention will be held at the Sunriver Resort, 17600 Center Drive, Sunriver, OR 97707.
Registration and most events will be held in the Homestead Building. [Maps]
Delegates should first check in at the Registration Desk in Homestead. 
If you're staying at the Resort, then check in at the Sunriver Lodge.