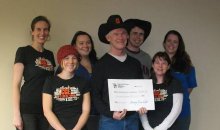 Local 6069 (CGE), with help from Local 3544 (GTFF) members raised a record $5555.55 for the Linn-Benton food share this fall at the annual Civil War Brew-Off. CGE organizes and hosts the annual event as a fun way to network with other graduate employees and show-off their beer brewing talents, while benefiting needy families in the area.

"As federal cuts to SNAP funding and the oncoming winter put extra pressure on charities like the Food Share, being able to help them serve our community is a tremendous thing. Major hats off to the Brew-Off committee; they must have used magical elves to pull this one off," said Sneha Gantla, CGE External Relations Chair.

The names of brews were as clever as they were tasty! This year, taking top honors for best named brew was "Ryely Cyrus: An Inappropriately Good Ryed" (Rob Hatfield & Evan Riddle). Winners for best tasting brews were: 1st, "A Beer Named Sue" (Christina Hahn & Angela Waetje); 2nd, Sam Jackson IIPA (Louie Kraaz & Colin Porter); 3rd: Avoided Crossing IPA (Ian Pilgrim), Gypsy Caravan (Matt Leef), and Metolius Imperial Porter (John Marshall & Kory Plakos).

"The Brew-Off provides a fantastic opportunity for members of the GTFF and CGE to meet and socialize with their peers down the road. I was very proud to see such a strong showing by GTFs, who packed a 50-seat charter bus and recruited designated drivers to make the trek up to Corvallis. And I'm incredibly thankful to the CGE organizers whose time and hard work made this event a huge success on all counts," said Ian Pilgrim, GTFF, VP Membership Communications.

Rob Hess, former CGE President traveled back to Corvallis from his home in California for the event. "I wouldn't miss the Brew-Off.  It's always a blast, but it's really great to see how far the event has come since the first one.  Every year is more fun, and we keep raising more and more for the Linn-Benton Food Share."
PHOTO CREDITS: Cover, Ben Seese. This page, courtesy CGE.