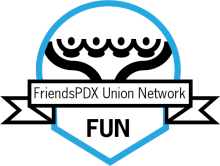 JUNE 1, 2023 - PORTLAND, OR — Employees of Friends of the Children - Portland voted today to form a new union named FriendsPDX Union Network (FUN), which is affiliated with the American Federation of Teachers-Oregon. The vote, conducted by the National Labor Relations Board, was approved by 93% of the voting employees.
Following an intensive ten-month campaign, FriendsPDX Union Network emerged triumphant with an overwhelming majority of workers voting 40-3 in favor of forming a union. This groundbreaking achievement paves the way for improved working conditions, fair compensation, and due process for all Friends of the Children - Portland (FOTC) employees. 
"We now have a long fight ahead of us to achieve the ultimate goal of bargaining our first contract," said Monica Martinez-Animas, a member of the organizing committee. "FUN is looking forward to negotiating with management, and collaborating to build a stronger, more equitable future for all with an emphasis on retaining talented staff."
"We are elated by this resounding victory and extend our deepest gratitude to the dedicated workers who placed their trust in AFT," said Marylou White, an Organizer for AFT-Oregon. "This election represents a transformative moment in our ongoing struggle for workers' rights. Together, we have demonstrated the power of unity, solidarity, and the collective voice. We are committed to working tirelessly to improve the lives and livelihoods of every worker and by extension every family at FOTC."
FUN aims to address long-standing issues that have plagued Friends of the Children - Portland, such as fair wages, bullying, a 49% annual turnover rate, job security, and an overall lack of transparency in an organization that should prioritize youth. By securing union representation, workers gain a seat at the negotiating table, ensuring their concerns are heard and their rights protected. AFT-Oregon and FUN will work diligently to foster open lines of communication between employees and management, promoting dialogue, collaboration, and a culture of respect within the workplace. At the end of the day, FriendsPDX Union Network is stronger because every employee has a burning passion for their job and for the youth that Friends of the Children - Portland serves.
FriendsPDX Union Network is a union that values the empowerment of community members, youth, and employees. It will continue to strive for excellence and to make sure that FOTC becomes a more equitable place to work. 
In addition to Martinez-Animas, the FUN bargaining committee also included Rock Rathgeb, Amy Van Denburgh, Katie Breeden, Annie Speed, Helen Hershey, and Trace Williams. 
FUN would like to extend its appreciation to the broader community, labor allies, and organizations that supported this monumental victory. "We recognize that this achievement is not only a win for workers but also for the wider labor movement, emphasizing the importance of collective bargaining and solidarity," added Martinez-Animas. "This has been a huge success for us. We cannot wait to start bargaining."